Central Savannah River Area small businesses that sell products or services to pet owners should sit up and take notice. Local consumers will spend $126.6 million this year on behalf of Fido and Fluffy. This amount has increased 323% since 1994, with no sign of letting up.
According to the American Pet Products Association, here's how local spending on furry companions breaks down:
Food: $51,896,000
Supplies/OTC Medicine: $27,846,000
Vet Care: $31,644,000
Live Pet Purchases: $3,797,000
Other Services: $11,391,000
The biggest month for sales of pet-related products and services in the Augusta area is, by far, December. That is when 10.5% of all annual spending happens in this category.
A large part of December's increase in spending relates to the relatively new tradition of buying gifts for the four-legged members of the family. This year, according to a consumer survey by Petco, 82% of American pet owners plan to do so.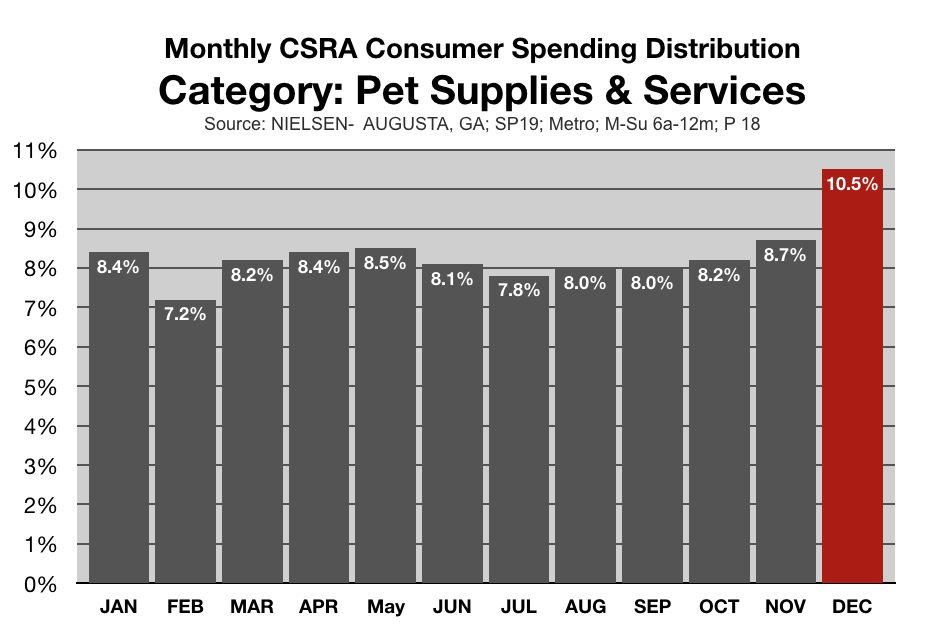 Many CSRA small businesses benefit from this category of consumer spending. These include veterinarians, groomers, walkers, photographers, pet food stores, and, of course, pooper scoopers.
For any of these businesses to claim a larger share of the $126.6-million local area pet owners plan to spend this year will require advertising.
The US Small Business Administration recommends that every CSRA small business advertise consistently. "Think you have a great product?" asks the SBA. "Unfortunately, no one's going to know about it unless you advertise."
The SBA goes on to say, "Advertising, if done correctly, can do wonders for your product sales, and you know what that means: more revenue and more success for your business."
There are many advertising media options available to Augusta area small business owners. These include local newspapers, television, and social media. When a company needs to drive sales, however, research indicates local radio is the most effective way.
Radio derives its power to bring in paying customers from the ability to reach the most possible consumers.
Nielsen did a study to determine how different elements of an advertising campaign directly affected sales increases. Reach had the most significant effect. More so than branding, targeting, or recency.
Last week, for instance, 90% of local pet owners tuned-in to an Augusta radio station. This was more than watched local TV, read a newspaper, logged-in to social media, or streamed music from Pandora and Spotify.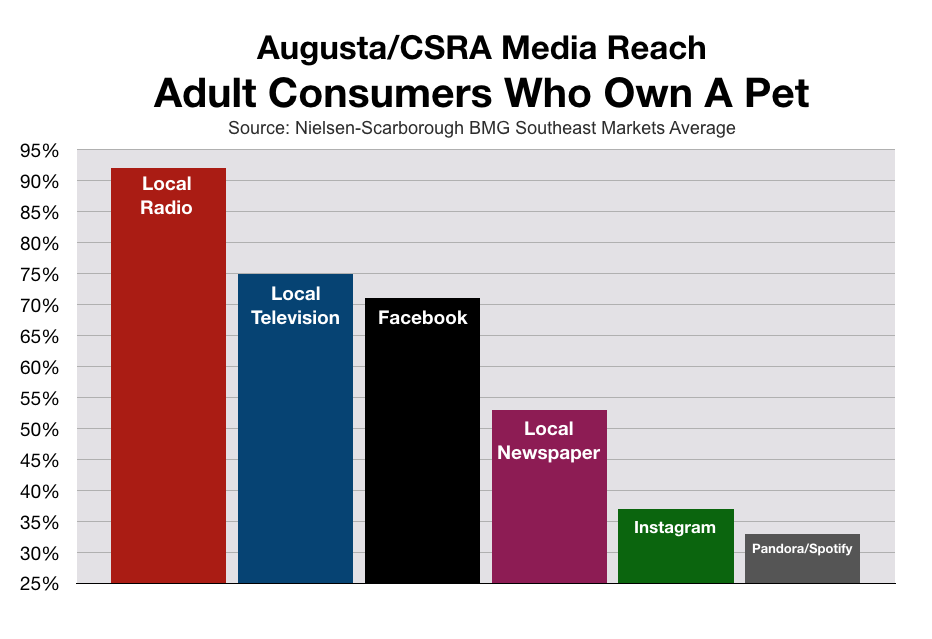 Augusta radio is also the most effective way to reach millennial consumers.
According to Forbes, millennials account for 35% of all pet owners, more than any other generation including baby boomers. Seven-in-ten millennials now have a cat, dog, or other pet.
Forbes goes on to say, "it's not just millennial's numbers and future spending power that will give a boost to the pet industry, it is their overwhelming passion for their pets."
A survey conducted by Zulily found that 80% of millennials say they frequently worry about their pets when they are apart even when running short errands. Some 70% would be willing to take a pay cut if they could bring their pet to work every day. And 65% say being separated from their pet for a week would be worse than doing without their cell phones.
Last week, Augusta radio reached more millennial pet owners than all other media.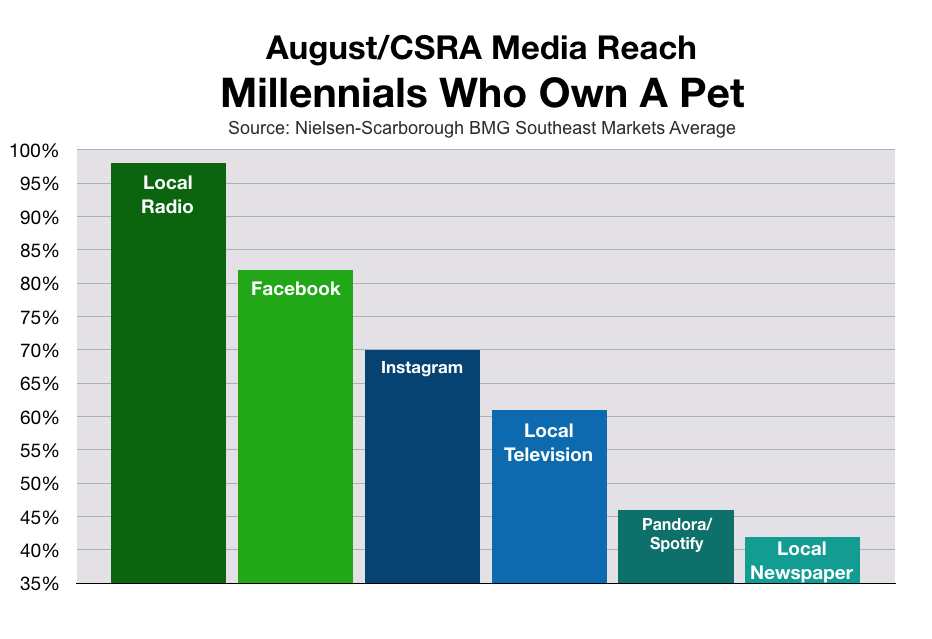 More Great Advice For CSRA Business Owners