Eight months ago, Jonathan Wingard opened his own State Farm insurance agency in North Augusta, South Carolina. Since then he has added 120 new households as clients.
After about 30 days in business, Mr. Wingard began advertising on Augusta radio stations. "New customers come in all the time," he says, "and say they heard about us on the radio."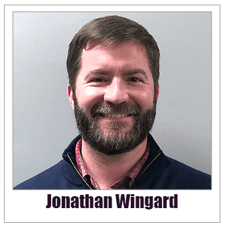 Mr. Wingard always knew he wanted to be in insurance. "I was introduced to the business in college by one of my elementary school teachers who had become a State Farm agent herself. I liked her confidence. I liked the way she listened to people. I liked her professionalism. I knew I wanted to be like that, too."
Before opening up his own small business, Mr. Wingard worked for another agency to "learn the ropes." After four years, he was ready to go out on his own by absorbing 800 accounts from an agent who was moving out of town."
"When I started my business," says Mr. Wingard, "there were already six other State Farm agents in North Augusta. So, I knew I had to build my own brand to differentiate myself. Advertising was the way to go."
"I do as much as I can afford," he says. "Since I opened, I have invested about 8% of the income generated by my existing accounts back into advertising."
To break even on his investment, Mr. Wingard says he needs to add six new households a month to his book of business. Right now, on average, he is adding 17.
"I have added more new accounts in seven months," he says, "than the other six local agents combined add in a year."
"I credit my growth with a combination of true-grit, follow-up, consistency, referrals, and radio advertising. These factors have made me the 37th fastest growing State Farm agents in the country among new agencies."
Mr. Wingard began advertising on just two Augusta radio stations. "Almost right away, customers began telling me they heard me on the radio," he says. He now invests in commercials on seven stations.
"I am using radio advertising to build my brand. I don't expect that every time my commercial runs, people are going to drop what they are doing to call, even though that happens sometimes."
"I know," he continues, "If they hear my commercial enough, then I will be the first insurance agent they think of when they need to insure a new vehicle, buy a new house, or need life insurance."
"Advertising is not cheap," says Mr. Wingard. "But, if you want to grow, you need to it."
"I can tell you, though, advertising on Augusta radio stations is definitely worth the money. I know people are hearing my commercials. It has definitely helped me accomplish more than I could have expected after being in business for just eight months."
Mr. Wingard says, "I recommend that every small business owner in the CSRA put their money in radio advertising. I know I always will."