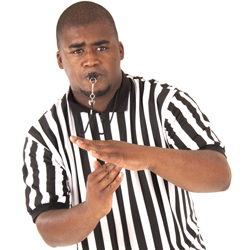 Right now, at least one of the 17,149 businesses located in the Central Savannah River Area is thinking about using the phrase 'March Madness' as part of upcoming advertising and marketing plans. Why not? It's a great use of alliteration. It's a familiar term. And, it's that time of year.
A furniture store in Evans might think it would be clever to use 'March Madness' in its commercials on Augusta radio to promote a big spring sale. A non-profit in Aiken feels it would be a good way to describe its charity fun run on social media and online advertising. A sports bar in Martinez believes it would be a no-brainer to use the term in streaming video and audio ads to bring in scores of basketball fans.
It is, indeed, tempting for a CSRA small business owner to use this term for advertising or marketing purposes. But, to avoid a costly legal battle, the use of this trademarked phrase should be a non-starter. Here's why.

The term 'March Madness' was first coined in 1939 by the Illinois State High School Association to describe its annual basketball tournament. The term gained new life in 1982 when sportscaster Brent Musberger used it to describe the NCAA Men's Division 1 Basketball March Tournament.
In 1992 after a legal tussle for the rights to the term 'March Madness, the NCAA and the Illinois State High School Association agreed to be co-owners of a trademark issued by The U.S. Patent and Trademark Office. The NCAA took complete control of the trademark in 1992.
The 'March Madness' brand is valued at more than a billion dollars per year and accounts for roughly 90% of the organization's revenue. With so many dollars at stake, the NCAA defends its trademark vigorously.
A trademark can last forever if properly maintained. It must be renewed every ten years. It can never go unused for more than three years. Most importantly, the holder must prevent the trademark from becoming generic.
A trademark is "genericized" when it becomes identified with a type of product or service in the public's mind rather than a particular brand. This was the fate of many well-known trademarks, including Asprin, Escalator, Laundromat, Yo-yo, Thermos, and Wine Cooler.
To protect its valuable trademark from generic status, the NCAA relentlessly scours websites, airwaves, and print media for instances of infringement. Any violations are greeted with the threat of legal actions, lawsuits, costly settlements, and court-imposed penalties.
To avoid the inevitable battle with the NCAA's billion-dollar empire, Augusta business owners should simply avoid using the trademarked term 'March Madness' for all advertising, marketing, and sales pursuits.
By the way, the NCAA also holds trademarks on the terms' Final Four', 'Elite Eight', "The Big Dance", as well as scores of others. As expected, all of these terms are also energetically defended.
Other trademarked terms Augusta business owners should not use include Superbowl, Kentucky Derby, Emmy Awards, Oscars, and Three-peat.
There are hundreds of more examples of trademarked words that are strongly defended by their owners. So, when in doubt, an Augusta area business owner should always check with an attorney to avoid trampling on someone else's intellectual property.
More Advice For CSRA Small Business Owners