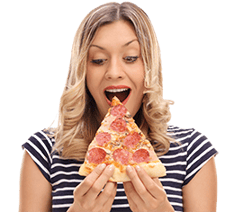 "Advertising on Augusta radio has been great for us," says Eddie Jordan. He is the Managing Partner of ten Papa John's Pizza restaurants in the CSRA. "Customers tell me all the time that they hear our ads. When they think about pizza, they think about us."
Mr. Jordan began his career at Papa John's in 1994 as a delivery driver. He worked his way up to assistant manager, general manager, and area supervisor. After six years he bought in as an owner.
"When I started, we just had two stores in the area. We added a new location every year until we had six and then stopped for a while," says Mr. Jordan. "But, in 2007, we knew the population in the CSRA was going to grow like crazy, so we started building again. In 2017, we added our ninth and tenth locations. We now have restaurants in Aiken, Augusta, and North Augusta."
Mr. Jordan was right. Pizza has become big business in the CSRA. Last week, according to Nielsen, more than 135,000 adults used a local pizza restaurant. This is almost one-third of the entire population.
"Radio," says Mr. Jordan, "is really the only medium that can allows us to reach so many people. We used to use local TV, but with things like Netflix and Tivo, our commercials were getting missed or skipped. So we stopped."
"On the other hand, radio has withstood the test of time. Just about everybody still listens."
Nielsen reports that 95% of consumers who uses a pizza restaurant every month, tune-in to Augusta radio stations every week. This is more than watch local TV, read a local newspaper, log-on to Facebook and Instagram, or stream music from Pandora and Spotify.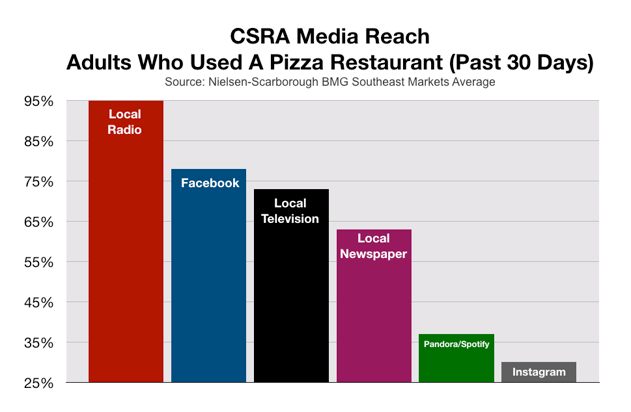 Currently, Mr. Jordan is advertising his Papa John's stores every single month on six Augusta radio stations.
"A lot of meal decisions are made while driving," says Mr. Jordan. "Radio is being used in almost every car. So, our commercials are reaching potential customers when they are deciding where to eat. Nothing else can do that for us."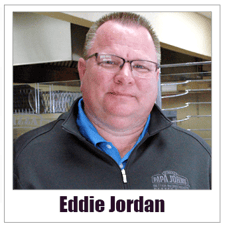 Mr. Jordan finds putting a local face on his stores through radio advertising and community events is critical to his company's success.
"Papa John's national advertising, which we contribute to, does a great job of building the corporate brand," says Mr. Jordan. "But, in the CSRA, we want to be known as the local pizza guys. Radio really helps us do that."
To help achieve this hometown flavor, almost all of Papa John's local radio commercials begin with Mr. Jordan's voice exclaiming, "Hey, it's Eddie, your local pizza guy."
"This approach really helped us withstand some troubles Papa John's went through last year," says Mr. Jordan.
He is referring to an incident when Papa John's founder, John Schnatter, was ousted from the company after using a racial slur during a conference call. Mr. Schnatter had been the face of the brand for many years in all of its advertising.
"With local radio," says Mr. Jordan, "a business can change their advertising overnight. So, when John started getting a lot of negative press, we switched our commercials. We wanted to let our customers in the CSRA know that Papa John's is not just one person. We are also their friends and neighbors who make and deliver your pizza in Augusta, North Augusta, and Aiken. TV couldn't do that for us and newspaper couldn't do that for us."
Mr. Joran believes radio advertising can be effective for almost any small business owner. "It's the best value of any medium," he says. "I can tell you, based on the number of people radio reaches, it is an excellent investment."
More Advertising Advice for CSRA Small Business Owners