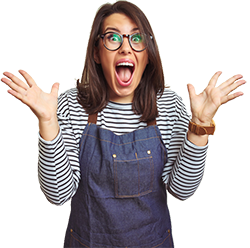 "I can tell which weeks we are advertising on the radio," says Colby Orr, "because our showroom gets busy and phones start ringing."
Mr. Orr and his wife April opened Olympus Granite on Bobby Jones Expressway last June.
Before buying the store, both Mr. and Ms. Orr had considerable experience in granite countertop retailing and as entrepreneurs. They purchased the current business from a struggling owner, changed its name, and locations.
"The store had been on Washington Road in Evans. But we wanted to be in a location with more traffic. Now, we have 100,000 cars a day pass by," says Mr. Orr. "That's interstate type traffic."
For the first few months, most visitors were drawn into the showroom by the giant slabs of polish granite placed along the side of the road.
"They are like giant billboards," says Ms. Orr. "Curious drivers would pull in to see what we were all about. That's how we got most of our first customers."
"During our first three months our sales were averaging $100,000," says Mr. Orr. "We were paying the bills, but we needed more to help us to grow."
Mr. Orr believed radio advertising could accelerate sales. But, his wife was skeptical".